We now have a referral system!!! If you send a friend in your friend will recieve a $15 credit on their next purchase and you will recieve a $25 credit on your next purchase!!! Referral form is required, you can recieve one in-store or you can just fill out the back of one of NEW business cards!
WE ALWAYS HAVE AN AD IN THE PAPER!!
CLOSEOUT SALE!!!

Gift Certificates available, just ask!!!
Come in and fill out an application for Snychrony Financial (formerly GE Credit) and receive a free coffee cup and $20 off purchase!!!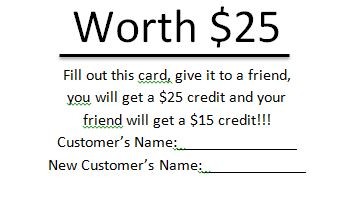 Don't want to come in to the store? Just give us a call and we can process your transaction over the Phone!
Futton with Reversible 8" Mattress
$329!
Electric Heater/ Fireplace

$299!
CLOSEOUT SALE!!!


Kenwood Living Room Set
$1,000​​
Elizabeth Ash Sectional

(Reversible, the sectional part can be moved to any other part of the couch/loveseat)

,

Loveseat, and pillows

$799
Maysville 3 Set Table

$239
Ashley Swivel Recliner

$299
Charisma Sofa & Loveseat

$699
Oak Dining Table with 4 Chairs

$229
Rustic 48" Dining Table with 4 Chairs

$699
Ashley Vachel Chest of Drawers

$190
Strasbourg Table with 4 Chairs

$290
Ashley Bay Bran End Table

$136
Orchard Park Bedroom Set

$599
Steelwood Bedroom Set

$599